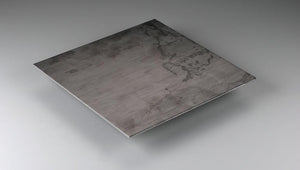 Have a special project that requires the same quality corten steel that we use for our products? We now offer raw corten steel sheets made and melted in USA.

Corten weathering steel sheet is a high strength material designed to develop a rust-like surface patina if left unfinished, eliminating the need to paint the material and protecting the material from corrosion. Corten weathering steel is intended for welded, bolted, or riveted projects and common applications include outdoor sculptures, building exteriors, fire pits, barbeque areas and other structures where high strength and enhanced corrosion resistance are required.

Our sheets come in 60 x 96" sheets. The thickness is .055" and each weigh 90 lbs.

Minimum order quantity is 1 sheet and will arrive on a skid. Please inquire for pricing as the destination and quantity will affect the shipping cost.